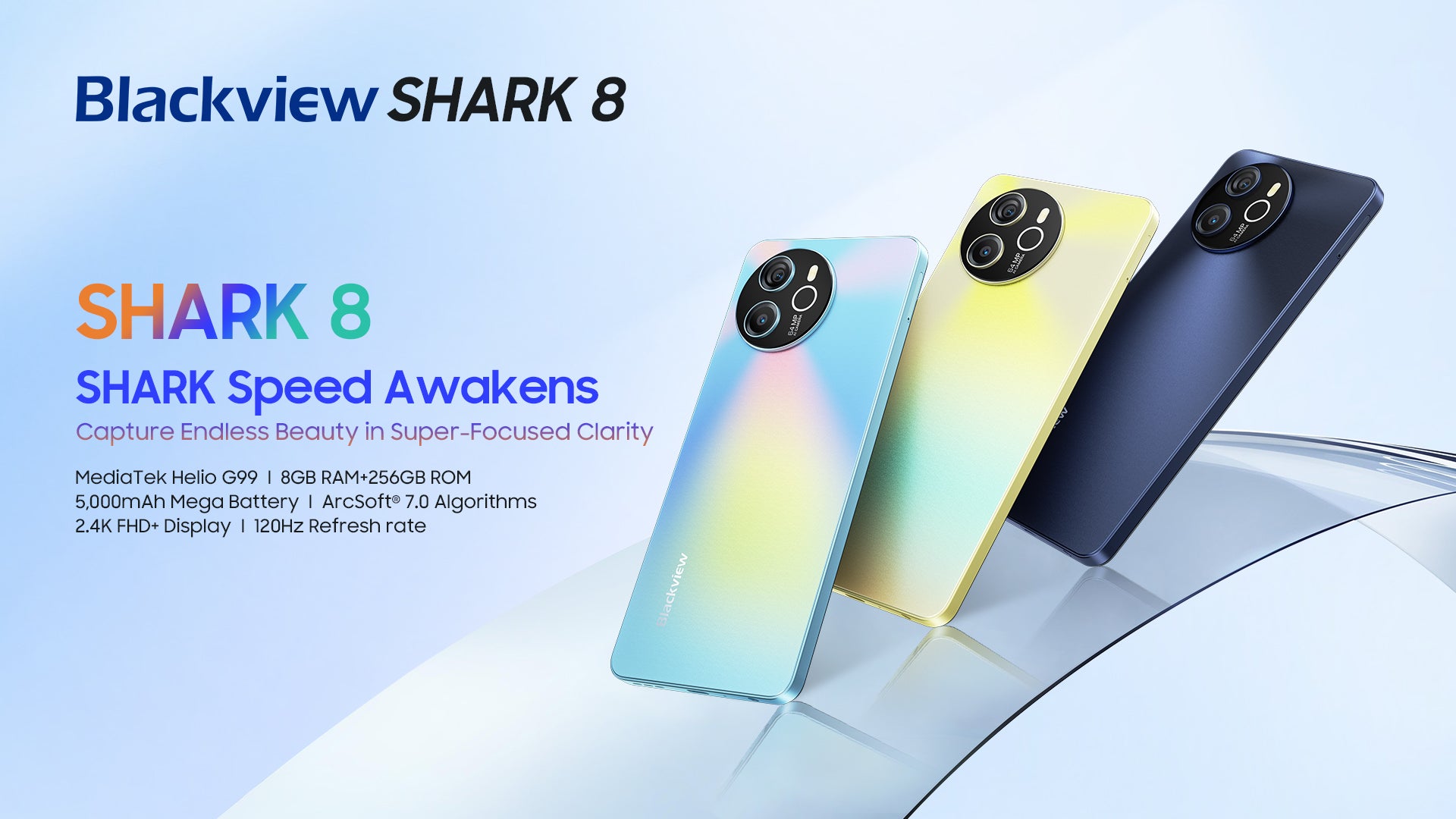 Blackview, the innovative tech company, is making waves once again with the launch of its all-new SHARK series, specifically designed to cater to the needs of young users. The SHARK 8 is the perfect companion for young users who seek a smartphone that can keep up with their dynamic lifestyles. Let's dive into the exciting features of the Blackview SHARK 8!


Superior Photography Capabilities:

The Blackview SHARK 8 takes smartphone photography to new heights with its exceptional camera system. Equipped with a 64MP Samsung ISOCELL GW3 sensor and Super-PD technology, users can capture stunning photos with remarkable detail, whether in motion or stillness. The ArcSoft 7.0 software further enhances photography results, providing a 15% improvement in image quality. From daytime landscapes to nighttime street scenes, the SHARK 8 ensures that every moment is beautifully preserved.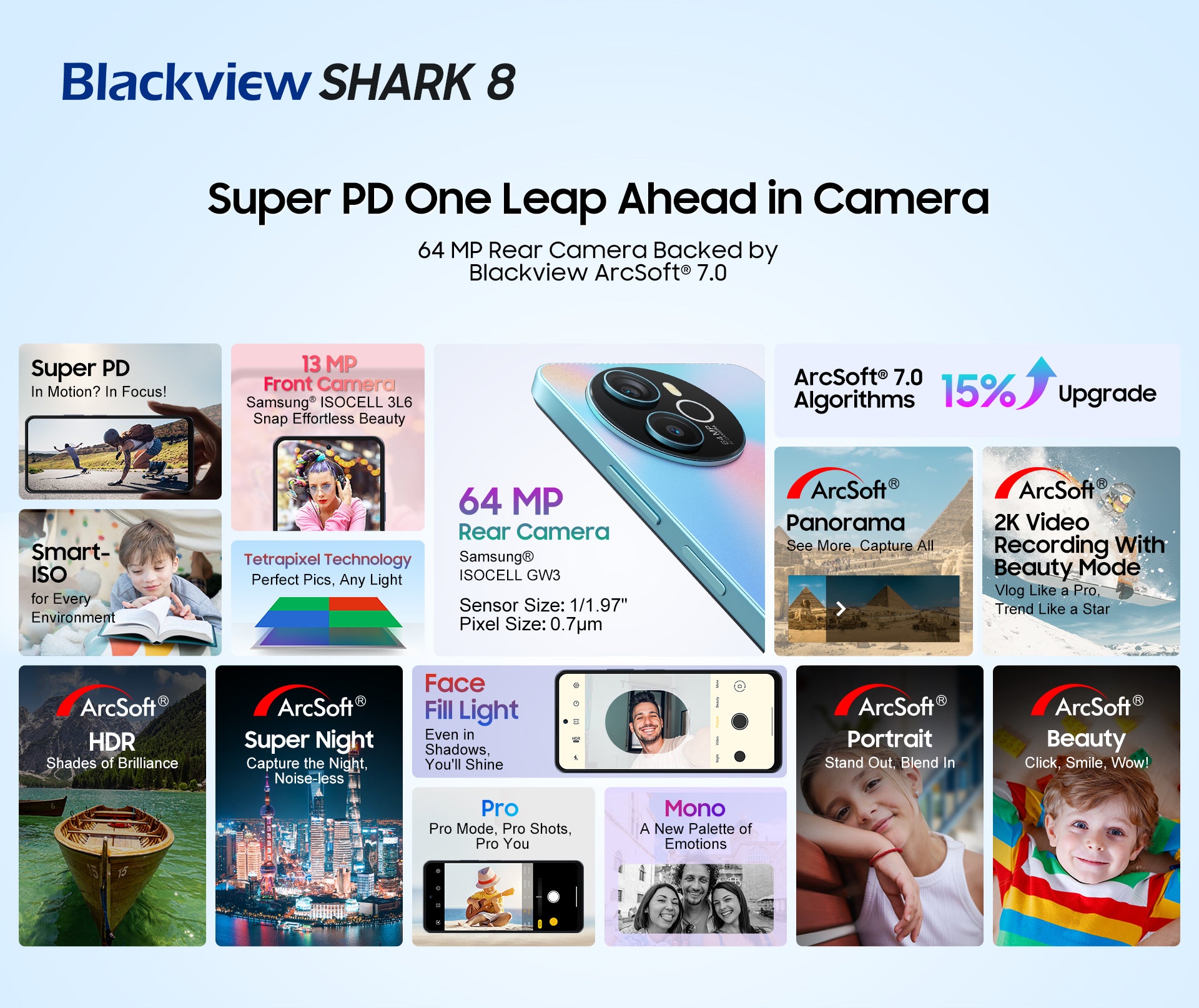 Powerful Gaming Performance:

For gaming enthusiasts, the Blackview SHARK 8 offers a gaming experience like no other. Powered by a 6nm Helio G99 chipset, this smartphone delivers "5G-like" speed, ensuring smooth gameplay even in the demanding titles. The integration of MediaTek's HyperEngine 2.0 Lite gaming technology guarantees an ultra-smooth gaming experience, making it a dream come true for mobile gamers. With up to 16GB of RAM and 256GB of internal storage (expandable up to 1TB), the SHARK 8 provides ample space to store games, apps, and media files.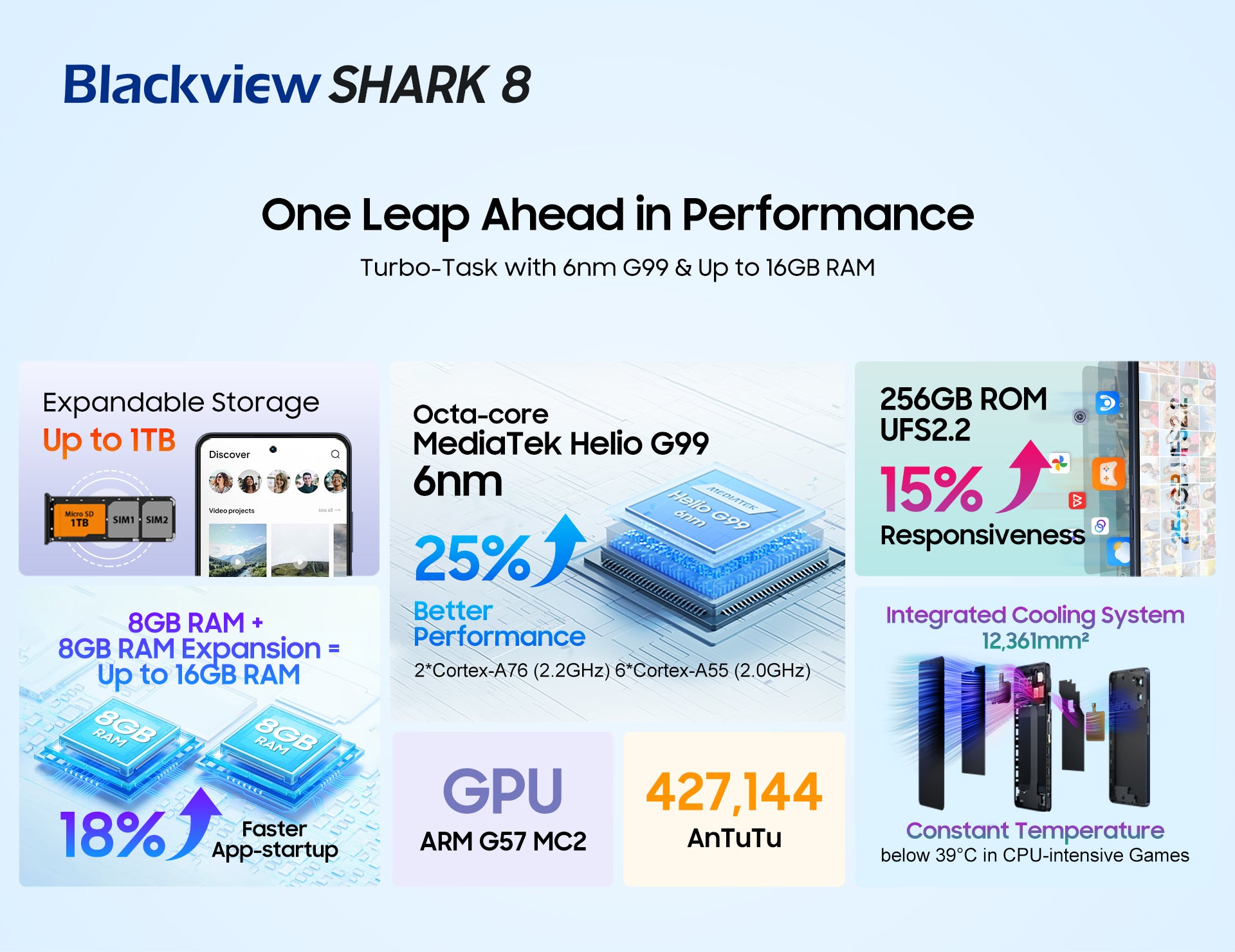 Immersive Entertainment:

The SHARK 8 boasts a 6.78-inch 2.4K display that brings visuals to life with vibrant colors and sharp details. The 120Hz high refresh rate ensures fluid gameplay and smooth scrolling, allowing users to fully immerse themselves in their favorite content. The Smart-K Box speaker provides an unmatched audio experience, replicating the sensation of being in a cinema, concert, or game arcade. Furthermore, the 5000mAh battery ensures long hours of uninterrupted entertainment, and with 33W fast charging, users can quickly get back into the action.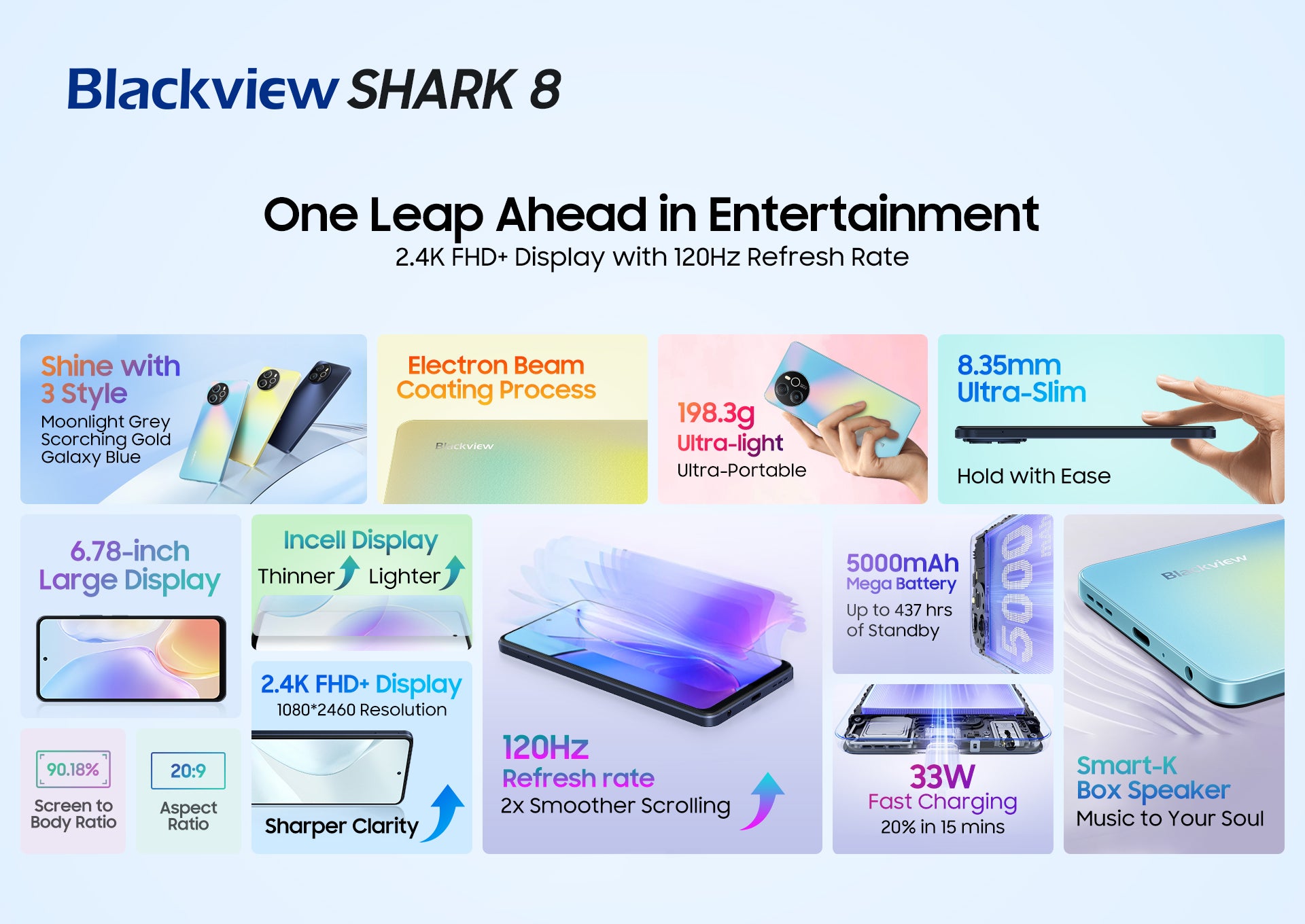 Stylish Design:

Blackview understands the importance of aesthetics, and the SHARK 8 showcases a unique design that reflects the trendy lifestyles of its users. Available in captivating colors such as Galaxy Blue, Blaze Gold, and Moonlight Gray, this smartphone stands out from the crowd and complements the personal style of its users. The sleek and eye-catching design is sure to turn heads wherever it goes.


Conclusion:

The Blackview SHARK 8 from the new SHARK series is a testament to the Blackview's commitment to innovation and user satisfaction. With its exceptional photography capabilities, powerful performance, immersive entertainment features, and stylish design, the SHARK 8 is the perfect companion for young users who seek a smartphone that can keep up with their dynamic lifestyles.

Availability

We will reveal more details for users when SHARK 8 launches worldwide from November 11th to November 17th. Click here to learn more about SHARK 8 in our AliExpress store.


More posts: Collection 1 -- Collection 2 -- Collection 3 -- Collection 4 -- Fixes Guides