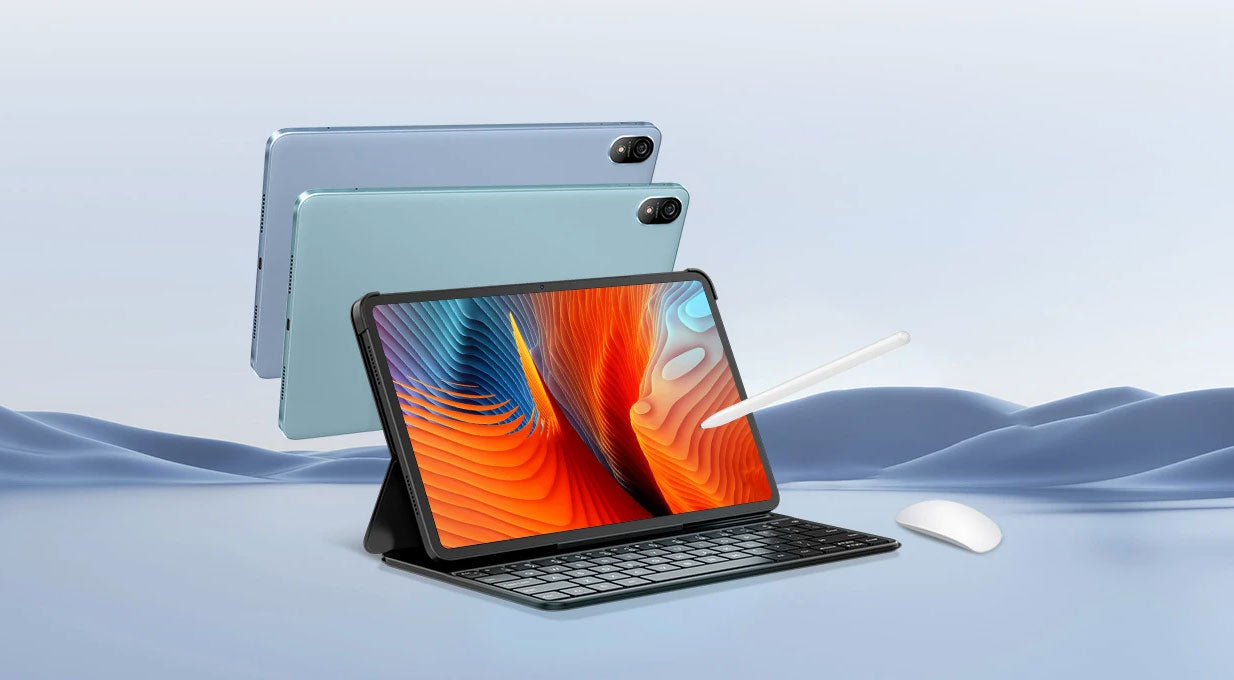 The Blackview Tab 18 is a feature-packed tablet that offers a remarkable user experience at an affordable price. With its impressive specifications and innovative features, the Tab 18 stands out from the competition. In this guide, we will explore the seven features of the Blackview Tab 18, ensuring you make the most of your tablet and elevate your digital experience.


1. Stunning Display and Design

The Blackview Tab 18 boasts a 12-inch 2.4K display, providing vibrant colors and sharp details for an immersive viewing experience. With an up to 86.6% screen-to-body ratio, you can enjoy maximum screen real estate without distractions. The tablet's slim profile, measuring just 7.9mm in thickness, and lightweight design, weighing only 632g, make it portable and comfortable to hold.


2. Long-lasting Battery and Fast Charging

With its 8800mAh battery, the Blackview Tab 18 ensures extended usage without frequent recharging. Whether you're binge-watching your favorite shows or working on creative projects, the tablet has you covered. Additionally, the 33W fast charging support enables quick recharging, minimizing downtime and keeping you productive.


3. Ample Storage and High-performance

The Blackview Tab 18 offers generous storage options with up to 24GB of RAM and 256GB of ROM. This combination allows for smooth multitasking and efficient handling of resource-intensive applications. Furthermore, the tablet supports expandable storage of up to 1TB, ensuring ample space for storing your files, documents, and multimedia.


4. Powerful Processor

Equipped with the MediaTek Helio G99 6nm processor, the Tab 18 delivers smooth performance and efficient power management. The octa-core chipset ensures snappy responsiveness, seamless multitasking, and lag-free operation, enhancing your productivity and overall user experience.


5. Magnetic S Pen Gen 2

The Blackview Tab 18 comes with the Magnetic S Pen Gen 2, a versatile tool that elevates your creativity. The pen provides precise and fluid input, making it ideal for sketching, note-taking, and other creative tasks. Its magnetic attachment ensures convenient storage and quick accessibility whenever you need it.


6. Enhanced Streaming Capabilities

The Tab 18 supports 1080P streaming video on popular platforms like Netflix, delivering crisp and immersive visuals for your entertainment needs. Whether you're watching movies, TV shows, or online videos, the tablet provides a high-quality streaming experience.


7. Immersive Audio Experience

With Quad Harman Kardon® Box Speakers, the Tab 18 offers exceptional audio quality. Whether you're enjoying music, watching movies, or engaging in video calls, the tablet delivers immersive sound with clarity and depth, enhancing your multimedia experience.


Conclusion

The Blackview Tab 18 combines outstanding features and value, making it a top choice for users seeking a versatile and affordable tablet. From its stunning display and design to its powerful performance and storage capabilities, the Tab 18 ensures a seamless and enjoyable digital experience.
With the inclusion of the Magnetic S Pen Gen 2, support for streaming video, and the immersive audio provided by Quad Harman Kardon® Box Speakers, this tablet offers a comprehensive package for entertainment and productivity. Invest in the Blackview Tab 18 and unlock the full potential of your digital endeavors.


Availability


Read also,


More posts: Collection 1 -- Collection 2 -- Collection 3 -- Collection 4 -- Fixes Guides