Youth-Focused Innovation: Oscal Tipped to Launch TIGER 12 with 64MP Ultra-clear Camera with Super PD, Backed by ArcSoft® 7.0 Algorithms, and Super-Performance 6nm Helio G99 Chipset, up to 24GB RAM, 256GB ROM!

Today's youth seek more than just simple communication tools; they desire devices that can capture life's highlights, boost creativity, and elevate gaming. OSCAL, renowned for its premium yet cost-effective products, is reportedly set to unveil its flagship TIGER 12, targeting young gamers, streaming enthusiasts, and photography aficionados.
It's noted that OSCAL TIGER 12 is set to feature a sharp 6.78-inch 2.4K display, a lasting 5000mAh battery with quick 33W charging, and a top-notch 64 MP main camera with super PD autofocus technology, powered by ArcSoft® 7.0 Algorithms. Under the hood lies a 6nm Octa-core MediaTek Helio G99 chip, with up to 24GB RAM, 256GB ROM, and the option to expand the TF card to up to 1TB. It runs on DokeOS 4.0 based on Android 13, ensuring a seamless, crisp photography experience and a compelling cost-to-performance ratio. Its distinctive design is just the cherry on top.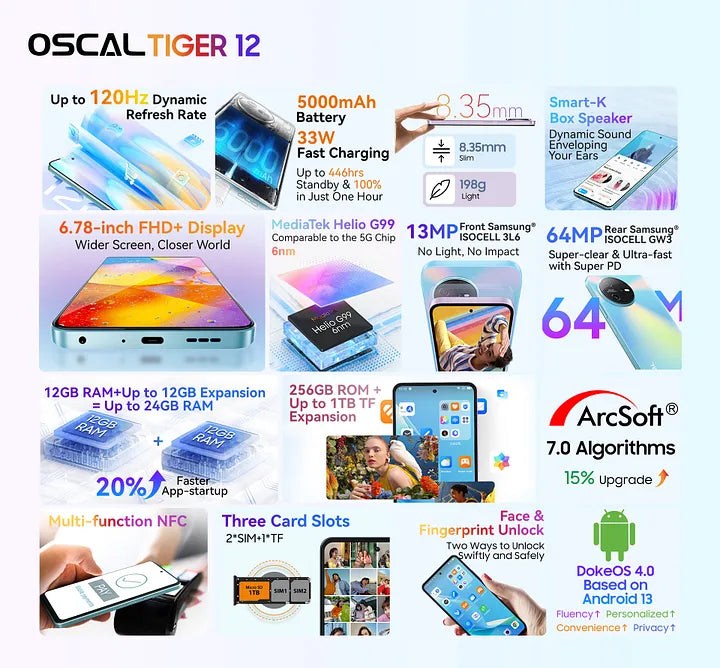 Beauty by Design, Comfort by Nature in Every Hold

Catering to young, style-conscious users, Oscal TIGER 12 will distinguish itself with a trio of enchanting hues: the youthfulness of Cerulean Blue and Flowing Purple, alongside the business elegance embodied by Cloudwing Grey. Its ultra-slim 8.35mm body and featherlight 198g weight make it perfect for gaming, photography, and streaming, ensuring not only an eye-catching appearance but also comfort and ease of use for the active lifestyle of young users.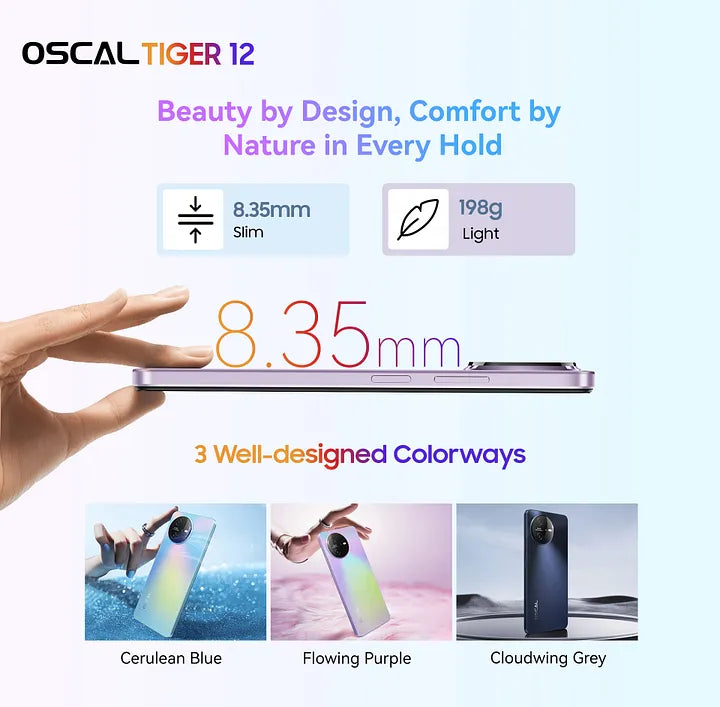 No.1 Entertainment Upgrades: An Audio-visual Revolution at Your Fingertips

--- 6.78-inch 2.4K FHD+ Display + 120Hz Dynamic Refresh Rate + Smart-K Box Speaker + 5000mAh Battery + 33W Fast Charging

To ensure an unmatched entertainment experience for users, the TIGER 12 will be equipped with a 6.78-inch 2.4K FHD+ Display, offering a wider and sharper visual journey. With a swift 120Hz dynamic refresh rate, TIGER 12 makes every interaction—from gaming to streaming—exceptionally fluid, allowing for complete immersion in every heart-pounding moment. To revolutionize the audio-visual experience, TIGER 12 will come with Smart-K Box speakers, turning every beat into a front-row concert experience.
The substantial 5000mAh battery is a game-changer for gamers and binge-watchers alike, offering up to marathon-worthy 6 hours of continuous use, thus dispelling any worries about battery life. Moreover, with 33W fast charging, a mere hour of charging will replenish the battery, keeping the entertainment going without a lengthy break.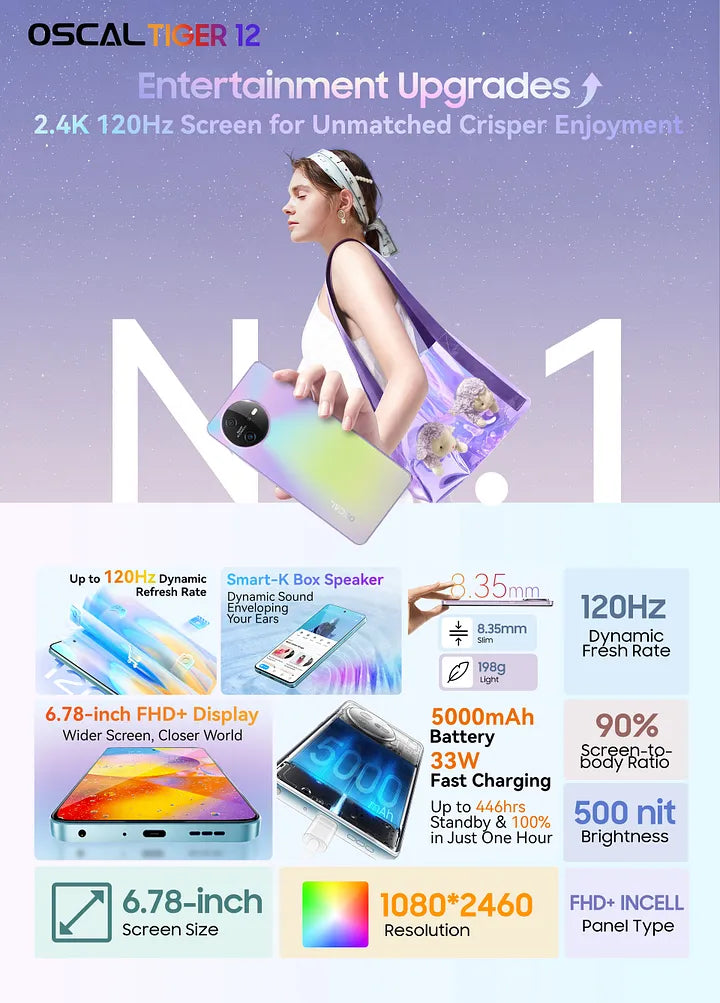 No.2 Camera Upgrades: Capture the Vibrancy of Youth with Pro-Level Photography Prowess

--- 13MP Samsung® Front-facing + 64MP Samsung® ISOCELL GW3 Cameras(Super-PD Technology & Tetrapixel Tech) + ArcSoft® 7.0 Algorithms + A Range of Camera Modes

To equip enthusiasts with the capability to capture images like a pro, Oscal TIGER series phones are engineered for easy photography of high-detail scenes at any time. Upcoming reports indicate that TIGER 12 will be fitted with a 13MP Samsung® front-facing camera and a robust 64MP Samsung® ISOCELL GW3 sensor at the rear. The Super-PD technology in the TIGER 12's rear camera excels at rapid autofocus, capturing clear images in various spontaneous scenarios by contrasting phases detected at different points. It's perfect for snapping thrilling moments on the sports field, parkour, extreme sports, pets, or street dancing.
Even in low light, such as at indoor celebrations or dinners, TIGER 12's cameras, supported by Super-PD and Tetrapixel tech, clearly capture every alluring food and joyful instance. Backed by the latest ArcSoft® 7.0 algorithms, TIGER 12 enhances photo quality by up to 15%. With a range of modes including Super Night, Panorama, Portrait, and 2K Video with Beauty Mode, TIGER 12 is set to effortlessly document the splendid vignettes of daily life.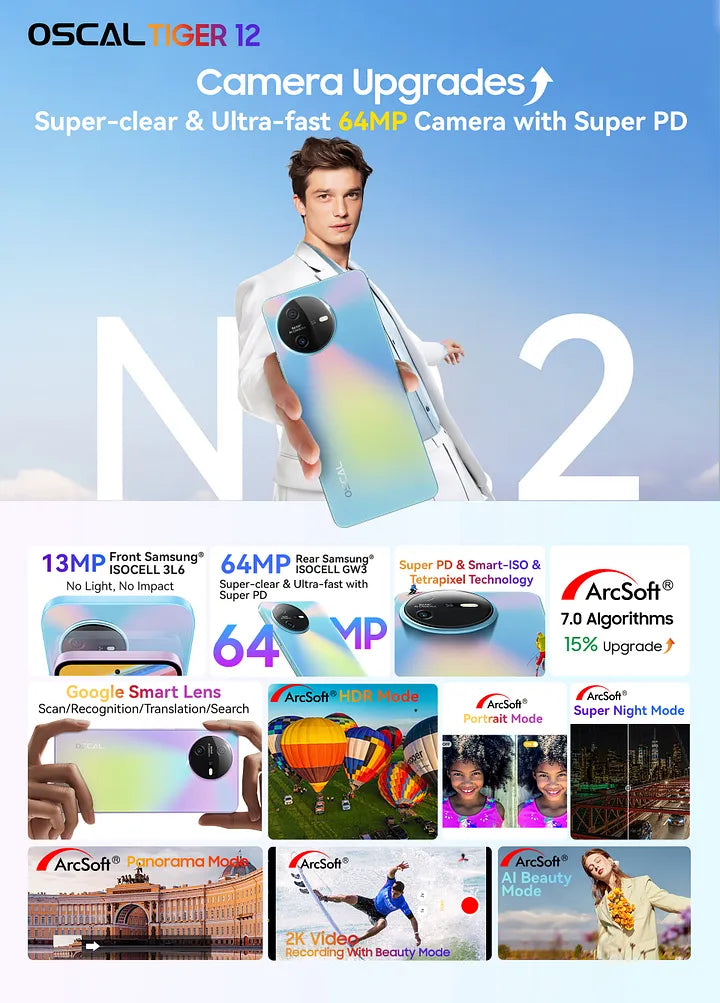 Super Performance —Born for Silk-like Operation

Beyond its captivating design and superior camera clarity tailored for young users, TIGER 12 also boasts powerful performance. Considering potential lags during gaming, streaming, and web browsing, TIGER 12's robust performance delivers an experience as smooth as silk.


No.3 Speed Upgrades: Cutting-edge Performance Ensures a User Experience that's Smooth as Cream

--- 6nm MediaTek Helio G99 processor + ARM G57 MC2 GPU + HyperEngine 2.0 Lite gaming technology + up to 24GB RAM + 256GB ROM + up to 1TB TF card expansion + 15,441mm² cooling system

To provide a frictionless experience in social media engagement, web exploration, or intense gaming sessions for young users, TIGER 12 is reportedly equipped with a state-of-the-art 6nm MediaTek Helio G99 processor, complemented by its 120Hz high refresh rate screen. This processor is a marvel of engineering, utilizing TSMC's advanced 6nm technology to combine two A76 cores clocked at 2.2GHz with six A55 cores at 2.0GHz for a balance of power and efficiency.
TIGER 12 has distinguished itself in AnTuTu benchmarking, securing a formidable score of 438,186, which vaults it ahead of several 5G counterparts. For graphic-intensive tasks, TIGER 12 employs an ARM G57 MC2 GPU, enhanced with MediaTek's HyperEngine 2.0 Lite gaming technology for exceptional graphic fidelity and gameplay smoothness. To accommodate extensive multimedia files and applications, TIGER 12 offers up to 24GB RAM and 256GB ROM, with the possibility to expand up to 1TB via a TF card. To sustain performance without overheating, it integrates a vast cooling system covering 15,441mm², keeping TIGER 12 cool under any load.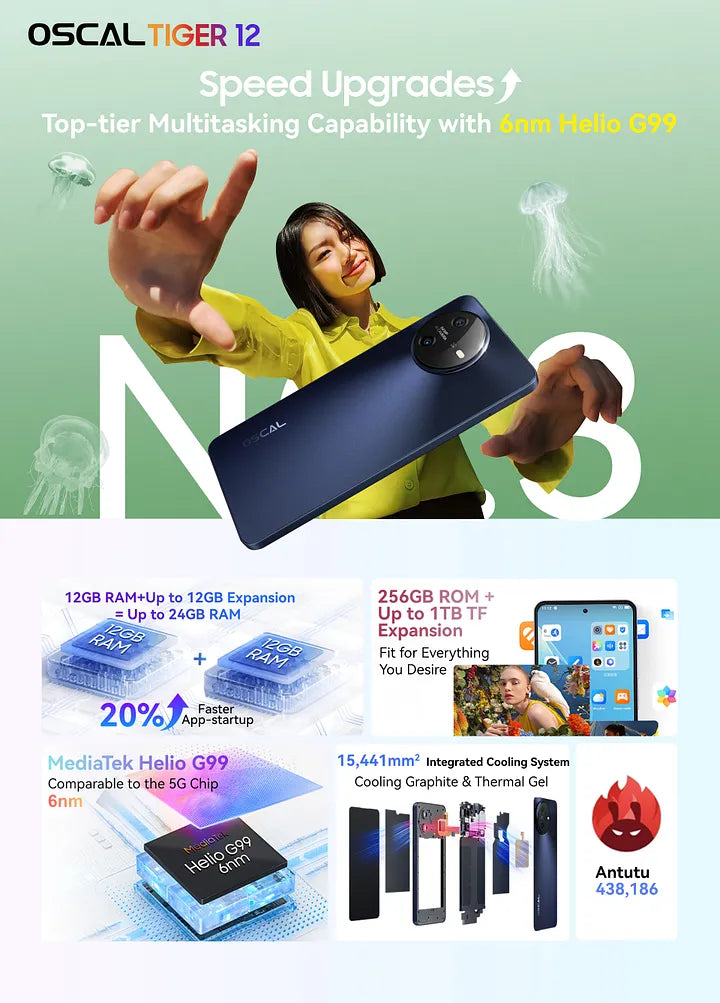 No.4 Productivity Upgrades: Streamlined Usability, Efficiency, and Smoothness for Daily and Entertainment Use

--- DokeOS 4.0 based on Android 13 + Workspace APP + EasyShare App + Real-time Subtitle + Atomized Memory 2.0 + Focus Computing

To enhance the experience of young users in their daily life, work, entertainment, or sharing memorable moments with higher usability, efficiency, and smoothness, TIGER 12 utilizes the newly unveiled DokeOS 4.0 based on Android 13, which prioritizes a more efficient, convenient, and private user experience. The brand-new Workspace APP creates a personalized private zone, merging work and leisure in a seamless fashion, highlighting its effectiveness and discrete nature.
Additionally, EasyShare APP allows for faster and more secure file sharing without an internet connection, up to 60 times quicker than wireless BT, making it the perfect choice for exchanging photos, videos, and apps with friends. The Real-time Subtitle enables users to effortlessly stay aligned with any audio, making the enjoyment of international content a breeze. Furthermore, innovative functionalities such as Atomized Memory 2.0 help to free up additional memory, and Focus Computing technology boosts the response time of applications by optimizing CPU and GPU performance, an important factor for fluid streaming and gaming sessions. These cutting-edge technologies not only augment the user experience but also solidify TIGER 12 as a reliable device for regular use.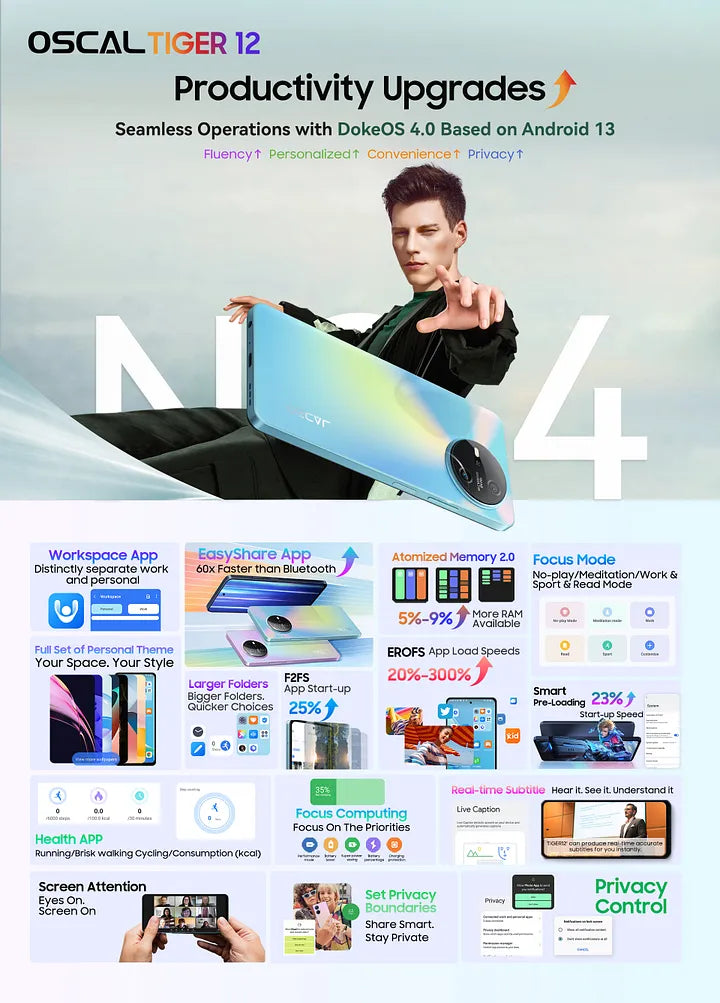 As Black Friday approaches, reliable reports indicate that the global release of OSCAL TIGER 12 is set for November 23rd, 2023 PT, just in time for the shopping holiday. More news about OSCAL TIGER 12, stay tuned.


Read also,


More posts: Collection 1 -- Collection 2 -- Collection 3 -- Collection 4 -- Fixes Guides